This is for an acquaintance of mine. She had planned a curry weekend.  Fish curry for Saturday and chicken on Sunday. The fish curry she prepared yesterday using a ready made paste was salty even though she added lots more water than the instruction on the packaging suggested. Coincidentally, i had borrowed a recipe book from library (Cita Rasa Malaysia – Melaka ISBN 9786675564758). So i suggested why not try cooking curry chicken using your own grinded paste.
The book is in malay. I translate it here.
Melaka Curry Chicken
Ingredient A
6 pieces of chicken
4 Tea spoon curry powder
2 Tea spoon blended dried chilli
1 piece of tamarind peel
1 big potato(chopped into 4)
1 1/2 cups coconut milk
Sugar and salt to taste
Cooking oil
Ingredient B (grinded)
1 big onion
3 cloves of garlic
3 pieces of candlenuts
1 stick lemongrass
1 inch ginger
1 inch belacan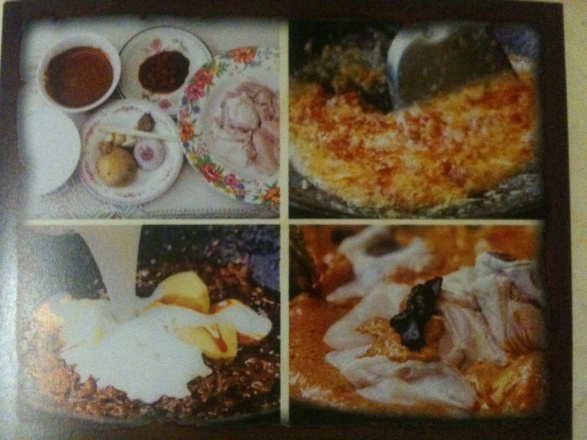 Instruction
Heat oil. Fry Ingredient A, dried chilli and the curry powder until crisp
Add the potato and coconut oil. Stir the mixture continuously. Cook until the potato is soft.
Add in the chicken and the tamarind peel. Cook until it boils.
Add in sugar and salt to taste. Stir for a while.
Shut the heat.
This is the outcome: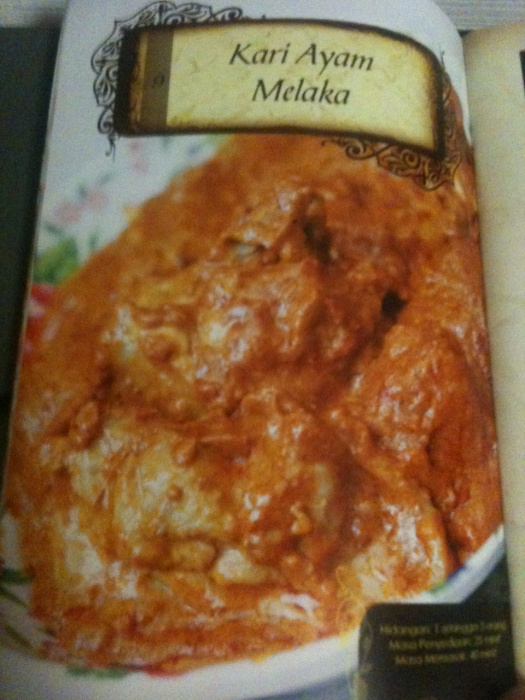 The recipe didn't specify adding water. So the gravy will be thick. This is Melaka style chicken curry. So i think that's why there's belacan. Can leave it out this think. One thing i notice my mom do when she prepare chicken curry is she pan-fry the chicken first. It won't take long for the chicken to cook then.